Outdoor weddings and receptions are fun, and when you choose marquee hire to enhance that special occasion, the event can be even better. One of the main benefits of marquee hire for weddings is that it will help to shelter your event from bad weather, such as rain, wind, or even too much sunshine. Big wedding party tent.
Marquee hire is not only a great option for the wedding reception, but you can also use it for the ceremony as well. In addition to these events, you may also choose to use a party rental tent for bridal luncheons, rehearsal dinners and much more. Versatility is one of the features of marquee rental that many people find so beneficial.
Large outdoor weddings where there will be many guests in attendance can really find marquee hire useful. You can opt to erect a wedding marquee on the property of a hotel, and in many cases, the hotel will also provide catering, and decoration as part of the wedding package. This is a fantastic means of handling a large wedding, but still leaving you time to enjoy the special occasion.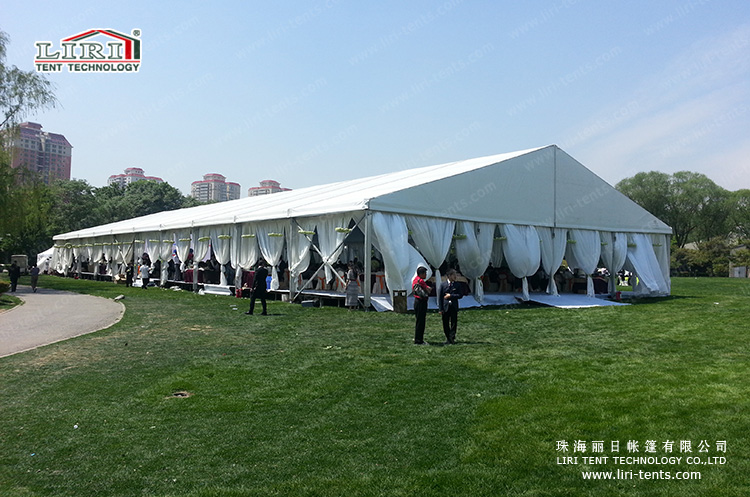 If you do have access to an area that is large enough to accommodate a wedding tent, you can simply choose a marquee hire that allows you to take care of all the details yourself. Although this can add stress to the event, you will have a great deal more freedom to create the wedding of your dreams.
When choosing marquee hire for the purpose of a wedding one of the first things you should look at is how many guests you expect to attend, as well as your theme, the decor you will be using, etc. All of this will have an impact on the size of marquee you will need for your event.
Additional factors that will influence your marquee hire include the weather you can expect, according to the time of year, your wedding will take place, as well as the type of reception you will have. Will your reception only feature a dinner, or do you plan on including dancing and other festivities?
The time of year that you will have your wedding will also determine how early you will have to book. Summer is the most popular time for outdoor weddings, which means that you will have to book early if you hope to secure a party tent for your wedding event. Last-minute marquee hire can be difficult during the summer months.
If you decide that marquee hire is best for your outdoor wedding, it is in your interest to begin planning as early as possible.
Contact Us
Company Name: Zhuhai Liri Tent Technology Co.,Ltd.
Sales: Debbie Lee
Tel: +86-756-6250688 Fax: +86-756-5311018
Company main website: http://en.liri-tents.com www.liri-structures.com
Mobile: +86-139 2691 1819 ( what's app or WeChat ) or +86-158 1945 2034
Skype: liritent2
Finding Marquee Hire in Your Area of the UK