Planning the perfect outdoor wedding should be fun and relatively stress free. From making enquirie with party hire specialists to writing your guest list, we've got some top tips to help you plan your outdoor wedding. Big wedding party tent.
Size and Style
Firstly, you need to think about the size of the wedding you want and the style you want to go for. Do you want it to be an intimate occasion with only close family and friends, or do you want to plan a grand wedding ceremony and reception with all the trimmings?
Once you know the type of ceremony and reception you want, you can then start looking at your budget, the guest list and begin thinking of the appropriate location for your wedding.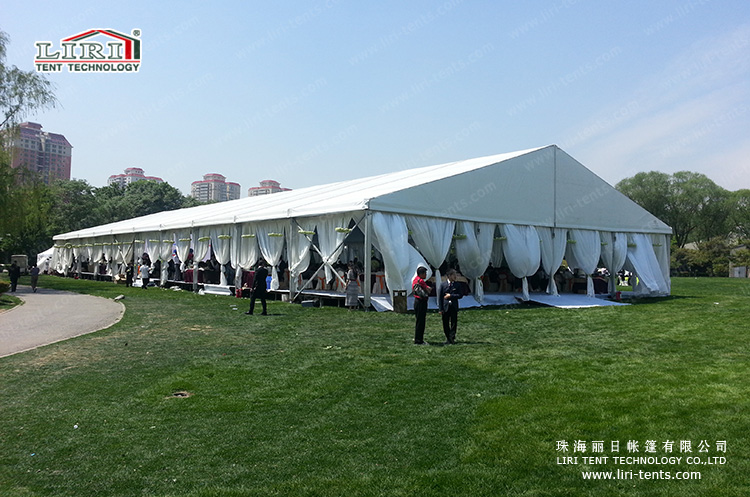 Choosing a location
Choosing a location can be very easy, or often very difficult. If you already have an outdoor setting you've always wanted to get married at, that's great.
If not you need to consider a few ideas that will suit you both:
At home with the family: for an intimate ceremony with those closest to you both.
Overlooking the harbor: this could be an intimate gathering of friends or a grand occasion depending on which lookout spot you decide on.
A garden: getting married in a garden you love is also a wonderful idea for that special occasion.
Time of year
Getting married outdoors can mean a thorough consideration of the time of year you wish to get married, once again depending on the location. A gorgeous Spring or Summer wedding is perfect for the outdoors when the weather is just right.
Other considerations
Once you know the location and size and style of your outdoor wedding, you'll want to consider some of the finer details:
Hiring the right wedding marquee: you want the marquee to match the style of wedding you want, and also fit all of your guests comfortably.
The right table and chairs for an elegant outdoor wedding: tables and chairs can make a big difference to how your reception looks. Matching it with the marquee and overall style of your wedding is important to remember.
Catering equipment and servicing staff you'll need plus the type of menu you want to have.
All the trimmings: Stunning flowers and timeless decorations to add the finishing touches to your wedding. They should reflect your personal style and the overall look of the wedding.
Planning your outdoor wedding should be fun. A great place to start looking is to go online and see what outdoor event companies have to offer. If you are still deciding on the style of wedding you want, browse online for ideas of what other couples have done.
I hope our list of tips on how to plan your outdoor wedding has been useful. With careful planning, organizing everything for your special day should be relatively stress-free, giving you more time to focus on having a great time and enjoying yourselves.
Contact Us
Company Name: Zhuhai Liri Tent Technology Co.,Ltd.
Sales: Debbie Lee
Tel: +86-756-6250688 Fax: +86-756-5311018
Company main website: http://en.liri-tents.com www.liri-structures.com
Mobile: +86-139 2691 1819 ( what's app or wechat ) or +86-158 1945 2034
Skype: liritent2
Making The Most Of A Wedding Tent For Sale – Some Tips