your big day will have many challenges, with so many people to please and so many things to try and cater for, but trying to stay on budget and not spend too much money can be one of the biggest challenges you will face. Wedding party tent.
Below, we take a look at five things that you can do to try and make sure that your wedding comes in on budget and that you do not spend way more than you can afford to do.
Have A Budget In Mind
One of the most obvious things that you really must do is to actually decide on your budget, as it is only when you have a firm budget in mind that you can then start to plan your wedding to make sure you do not overspend. You do however need to be a little bit flexible, but if you have a rough idea of how much you can afford to spend then you can try to make sure that your wedding will not end up costing more than you can afford.
Book Early
Many wedding venues offer discounts when you book early, which is also a good idea as some of the most popular wedding venues do get booked out quite quickly. If you know when you are planning to get married, then make sure you book the venue as early as you possibly can, because even if you only receive a small saving, this will all help in the long run. You can also save money by booking outside of the busiest times because this is when the venue will be quieter so you will find prices a bit cheaper during these periods.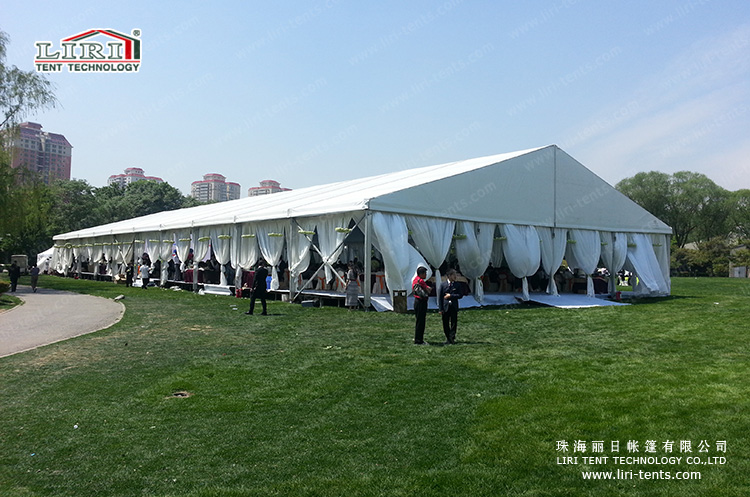 Plan Ahead – The earlier you sort things, the more money you can save, whereas if you leave everything right up until the last minute then you are going to end up spending more. By planning methodically and making sure that you have everything covered and in progress, you will save money and keep the wedding in budget, because you normally end up spending more than you should when rush things at the end and just go mad with money.
Contact Us
Company Name: Zhuhai Liri Tent Technology Co.,Ltd.
Sales: Debbie Lee
Tel: +86-756-6250688 Fax: +86-756-5311018
Company main website: http://en.liri-tents.com www.liri-structures.com
Mobile: +86-139 2691 1819 ( what's app or wechat ) or +86-158 1945 2034
Skype: liritent2