Want to make a beautifil unique luxury wedding party? Come and find a extraodinary China Supplier for marquee tents for sale.
Pick a suitable clear span tent for holding yor guest can at least make sure you are not making mistake in the perspective.
However, there is so many tents company in the market, some of them are excellent while others is just somewhat so-so.
First, buy from a factory or buy from a wholesaler?
Although some agent can give you some exlusive service, that not mean factories only know manufacturing, some is also good in offering the whole line experience from the tents to service all is very convenient.
To ensure your wedding tents beautiful and accommodating happy guests at these festivities, a tents manufacturer should at lease owning the following factors: technique, the experience and innovative styles and so on.

Custom wedding tents with their innovative and elegant designs give every wedding the honor it deserves. First, the custom design requirements are not limited to beauty alone but also the size of people attending the same. Spacious tents ensure enough room for all guests' invited. In addition to this design, highly raised tents provide a soothing, lovely and relaxing comfortable environment for guests. Second, the custom tents fit the wedding's requirements and specifications. This ensures that the tents meet the current party situation without thinking of any shortages whether of space or decor. If such tent's custom qualities won't make a wedding admirable, what else could?
What matters is the quality for a tent, how can I judge?
Three factors you should pay attention to: the frame profile, the sidewall materials and the connecting mthod.
All weddings are unique with different specifications and theme requirements. For examples, in weddings, color themes and styles are all different and unique. For this reason, tents that meet this uniqueness with the availability of varieties in designs and color choices are ideal for wedding occasions.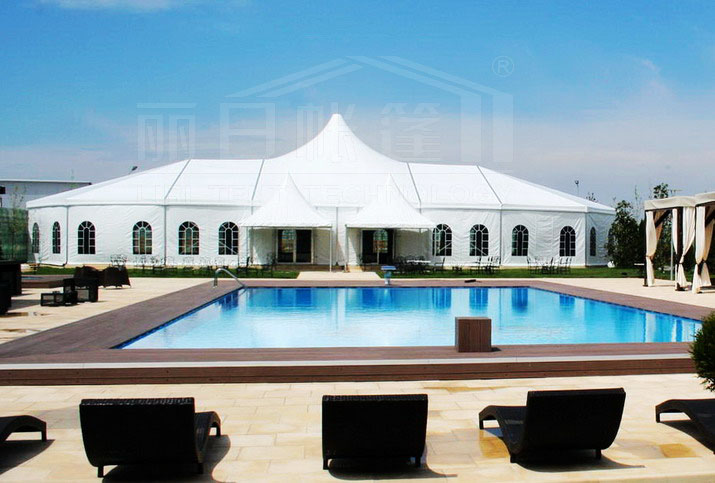 LIRI TENT is the biggest and best tent company in China,
most of our tents had got the engineer certificates and also the flame retardant
certificates for the fabric from USA and Australia. The quality is same as the
leading tent company in Germany. And we have been exported to over 97 countries
until now and have won a good reputation both home and abroad due to we are more
concerned about the quality and after-sale service.
Contact:
Elma  E-mail: tent68@liri-tents.com
Mobile (what's App): 0086-13570637368  Skype: liri-elma. Welcome to contact me anytime.