The best tents and hottest trends make backyard events more popular than ever.
For some reason, everything just tastes better outside. Picnickers know it, corporate
party planners know it and backyard wedding enthusiasts know it. To meet the need of
alfresco party aficionados, today's tent professionals offer an array of outdoor party
opportunities that go far beyond the simple scattering of tables and chairs on a backyard
patio. Wedding tent.
According to Mike Holland, president of Chattanooga Tent in Chattanooga, Tenn., there are
several benefits to hosting a backyard event. For instance, venues have time restraints on
the event but at a home, the homeowner sets the timeline. "Most venues have a restricted
list of caterers, florists and rental companies, but at a private residence, the host
decides who to use," Holland says. "A major benefit for the host is that he or she will
continue to create memories at their home and its surroundings."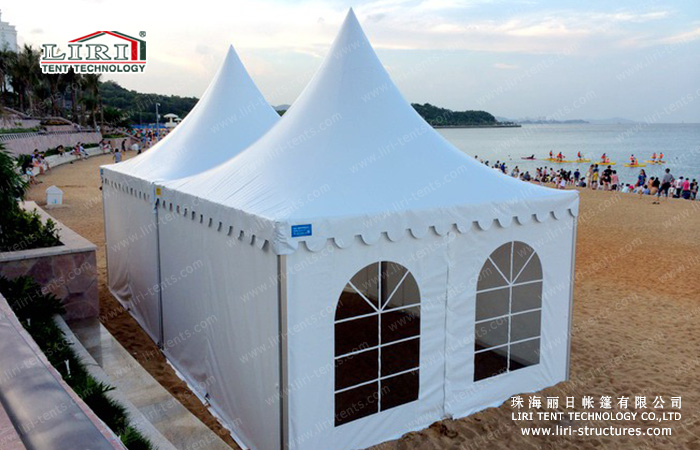 Frame tents and pole tents are most commonly used for today's backyard events, which
include receptions, graduations, birthdays and anniversary parties. However, according to
Jill Ivey, event designer at Beachview Event Rentals & Design in Woodbine, Ga., the frame
tent seems to be the most popular for the smaller backyard parties. "There are no
interior poles for the client to work around," Ivey says. "The tent installation is
fairly quick if there are no obstructions." However, swimming pools and landscaping can
be challenging when working in backyards, along with underground utilities and irrigation
systems.
"The benefit of a frame tent is that it can be used as an extension of the home and can
be secured with ballast rather than stakes," Holland continues. "The challenges for
either style of tent are providing the correct size to fit existing landscape and getting
equipment to the site. Due to landscaping obstacles, we oftentimes must use several
smaller tents to work around trees, fountains or stairways. The equipment must be carried
by hand to home sites. Pole tents require additional space for lines and stakes."
Backyard events are typically small, intimate affairs that offer ample opportunities to be
creative in the use of the space. Photo: Chattanooga Tent
Backyard events are typically small, intimate affairs that offer ample opportunities to be
creative in the use of the space. Photo: Chattanooga Tent
For one backyard wedding reception, Chattanooga Tent began by building an extension to the
existing pool deck. "The floor level went from 0 to 15 feet tall and was built around two
trees," Holland says. "Four tents were installed over the deck to accommodate 250 guests
and a band for dinner and dancing."
Terry Turner, owner of All Occasions Party Rentals in Knoxville, Tenn., is seeing a lot
more bridal showers, anniversary parties, larger and more upscale birthday parties and
smaller private weddings taking place in the backyard. "We are doing more custom setups
with different elevations and coverage areas," Turner says. "Customers are always
wanting to use their patio furniture or to cover a crazy-shaped deck. We try our best to
work with them, but we make sure they are aware if there are safety issues related to what
they want to do. For tents over trees and landscape projects, we do our best to
accommodate them."
Key considerations
The uniqueness to orchestrating backyard tented events can be both a challenge and a
benefit. Ivey points out that backyard installations can be as difficult as building a
tent in a different area and walking it into place or as simple as using taller legs.
dreamstime_xxl_19336794Often these types of events are the first or only time a client has
worked with a tent rental company. "That's why it's important to treat the client as an
intelligent individual who is new to the tent and party industry," Holland says. "From
the first meeting, we feel it's important that the client understands all aspects of
hosting an event at their home. Restrooms, power requirements for band, caterer, lighting,
parking and traffic are just a few considerations in planning the event."
The placement of the tent is an obvious point of discussion. But what the host may not
have considered is the ease of access for guests, the levelness of the ground, drainage
and proximity to the home in case of inclement weather. "Knowing the inventory and
understanding the capabilities of the staff also allows for a better designed event,"
Holland says.
Today's trends
The upswing in the economy is also affecting the prevalence of backyard parties, allowing
clients the means to have their dream events. "People are becoming more apt to spend
their money on the decor of the party rather than a complete focus on food and
entertainment," Ivey says. "They want to include the 'wow' factor for their guests.
The food and entertainment are still important, but the party needs to look good as well.
"
Urban, rustic, farm and vintage design trends are extremely popular, as are "soft seating
" elements. "Creating social areas with couches, chairs and end tables is being
requested a lot," Ivey says. "Building beautiful bars with shelved bar backs, complete
with bar stools is also popular. And many people are using acrylic pool covers to provide
a dance area."
One of Beachview's most recent challenges was a backyard wedding for 120 guests. A 20-
by-70-foot patio was covered with tents. At one end of the patio was a 10-foot-tall
pergola, and a 3-foot brick wall surrounded the patio. "We used a 30-by-30-foot gable
tent and a 50-by-30-foot gable tent," Ivey says. "Each tent had to be built on top of
stage sections, then put on 12-foot legs to cover the pergola. We hung Italian globe
lights throughout the tents and created three 32-foot feasting tables using classroom
tables as well as two other tables."
Backyard events with ample exterior space allow for larger tents to be installed, as was
the case at this event by Pelican Tents and Events, Shreveport, La. Photo: Pelican Tents
and Events
Backyard events with ample exterior space allow for
larger tents to be installed, as was the case at this event
by Pelican Tents and Events, Shreveport, La.
Photo: Pelican Tents and Events
Flowers lined the center of each feasting table with tea lights hanging overhead. And a
dance floor was surrounded by soft lounge furniture. "It was very cozy but beautiful,"
Ivey says. "Simple elegance."
Chattanooga Tent has been asked to cover trees, pools, fountains and decks—each of which
creates its own challenges. "By covering a pool, one can add a significant amount of
space but it does affect price and time needed for installation," Holland says. "We have
built decks around existing trees and then covered the deck with tents."
Moss Duvall, owner of Pelican Tents and Events in Shreveport, La., says that because of
its location in Louisiana, the company tents a lot of backyard crawfish boils, barbeque
cookouts and family events. "The trends of country chic, farm to table, and rustic
designs are very popular now in North Louisiana," Duvall says. "Our string lighting,
whiskey barrels and farm tables have been very popular. They are a great add-on to your
basic rentals and add a lot of style to the event."
No matter what the clients' needs are for their special event, with the right tent rental
company, some imagination and flexibility, the space outside their back door can be
transformed into the stuff dreams are made of.
Based in Plymouth, Minn., Maura Keller frequently writes about applications of
specialty fabrics.
A designer's garden
Contact Us
Company Name: Zhuhai Liri Tent Technology Co.,Ltd.
Sales: Debbie Lee
Tel: +86-756-6250688 Fax: +86-756-5311018
Company main website: http://www.liri-tents.com / www.liri-structures.com
Mobile: +86-139 2691 1819 ( what's app or wechat ) or +86-158 1945 2034
Skype: liritent2