Outdoor weddings are incredibly popular. If you are planning to have a tent over your reception area, you will have some special design challenges. How do you go about transforming a plain white tent into an elegant and unforgettable reception? wedding tents
One of the nice things about having your wedding reception in a tent is that you are basically starting with a blank slate. The natural beauty of your site can serve as inspiration, but you will not be faced with trying to work around a pre-existing color palette as you would at an indoor venue. This is the good news. The freedom afforded by that blank slate is also going to be your biggest decorating challenge; when you start with a mass of white fabric, deciding where to start can feel like staring at a blank page with writer's block!
The trends for decorating an outdoor wedding are similar to what brides are doing for inside receptions. At a tented wedding, you may find more natural elements being used, but the basic framework is still going to be the same. You want your tent décor to fit in with your overall style.
If you are having a very classic ceremony and the bride is wearing a traditional gown with custom pearl bridal jewelry, then you want that timeless feeling to carry through into your reception décor. On the other hand, if you are wearing a daring designer gown and your bridal jewelry is custom-made from unique and organic-looking Keshi pearls, you will want to find more eclectic design elements for your tent.
The hottest trend for weddings inside or outside is to hang decorations from the ceiling.
Often this is in the form of a chandelier. You can rent one massive crystal chandelier for the center of the tent if your reception is going to be very formal, or have smaller feminine chandeliers suspended over each table. This is an interesting flip on the idea of bringing the outside to an inside venue. In this case, you are making your reception more elegant by bringing an indoor element, such as a chandelier, to an outdoor space, the tent. It will certainly be a surprising element that your guests will notice right away.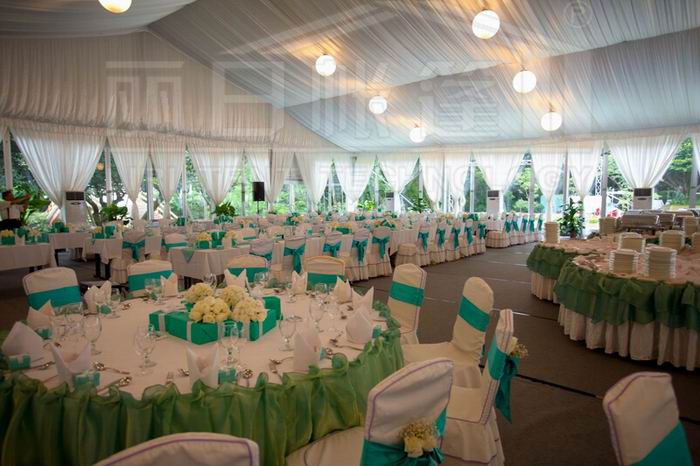 If you love the idea of hanging something in your tent but do not want to use traditional
chandeliers, there are many other great options. Handcrafted lighting fixtures can be
created using natural materials such as grapevine and flowers for an earthy feeling. You
can also go with a modern elegant style and suspend clear plexiglass squares covered with
pillar candles for a glowing and chic ambiance.
When you are trying to make a plain white tent appear more elegant, it is important to
cover up the utilitarian parts of it, such as posts and other supports. There are many
beautiful ways to do this. One idea is to drape lengths of fabric from the ceiling of the
tent. If you choose soft colors like peach or rose, it will also cast a very flattering
glow onto the skin of everyone present. Fabric can also be used to hide vertical supports
in a tent. One of the most stylish ways to do is is hang draperies around the posts so
that they look like part of your design, rather than something unattractive that you are
trying to hide.
A tented wedding can have magic all of its own. You have the ability to transform your
wedding reception into a place that brings your vision to life. When you take the time to
consider the tent decorations, the result will be a gorgeous space to dine and dance the
night away.