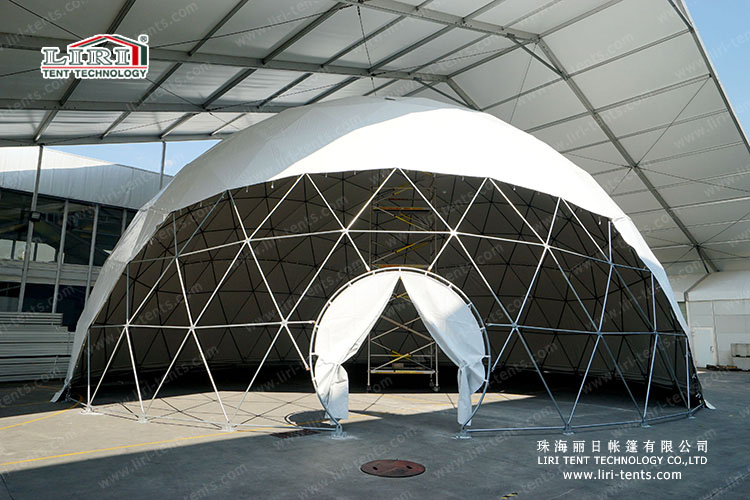 1, Applications of Half Sphere Tent ,
Its unique and beautiful shape, variety fabric design style makes sphere tent the first choice for high-end users who advocate high quality events.Sphere tent create the perfect solution to make your event special. Sphere design is widely used in various events, large-scale exhibitions, celebrations, outdoor activities.
2, Tent Size of Half Sphere Tent
3, Materials of Half Sphere Tent ,
3.1 Frame struss: special high-strength steel tube with zinc plated or painted
3.2 Fabric cover: high quality double PVC-coated polyester textile, 100% waterproof, flame retardant to DIN4102 B1, M2, CFM, UV resistant, tear resistant, self-cleaning ability, etc.
3.3 Connector: strong hot-dip galvanized steel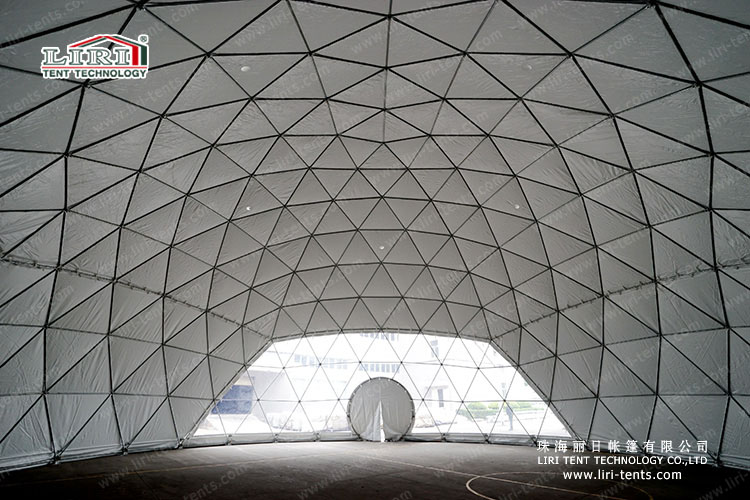 4, Installation of tents, canopies and marquee tents:
We will provide you the installation manual in English and Russian. Supervisor will be available if needed.
5. Fixing Methods
5.1 Expandable Bolt, used in the concrete ground
5.2 Ground Anchor, used all kinds of soft ground, such as earth, sandy
5.3 Weight Plate, it is the best choice for you who runs the rental business, used in all kinds of ground, expecially for the indestructible ground.
Company Information
Liri Tent Technology (Zhuhai) Co., Ltd. was established in 1997. Our company is the first professional manufacturer who introduced European advanced tents technology into our own design. Our main products include Modular Aluminium Alloy Structure Tents, Clear Span Tent Structure and Aluminium Alloy Square Pagoda & Summer Gazebo.
To form an integrated management system,Liri Tent introduced advanced ERP system in 2008 and barcode management system in 2013. Liri Tent is also the pioneer to apply CNC machines that achieved the automatic processing of aluminum.
LIRI TENT Successful Cases:
-Kinds of New Style Tent for China Open
-Canton Fair Exhibition Hall
-2011 Universiade Official Tent Supplier
-2010 Asian Games Exclusive Tent Supplier&Sponsor
-Dior Event in Hong Kong
-China Grand Rally Sponsor
-Hong Kong Wine and Dine Festival
FAQ
Q1: Can you print our logos on tent?
Yes.Customized logos can be print on the tent fabric according to your requirements.
Q2: Is that factory price?
Yes.We assure you all prices are based on factory.
Q3: Does your tent be able to install repeatedly?
Our tents can be assembled and dismantled and repeatedly with small transportation size.The lifespan of aluminium framework can reach 15-20 years,and 5-8 years for PVC fabrics depending on different conditions of usage.
Q4: What documents are available?
A full range documents including structural drawings,packing list,installation manual and relative certificates can be provided.Moreover,customs declaration is provided.We provide one-stop service for you.
Q5: What size tent is necessary for your special event?
A person must first determine tent usage. If a tent is being used for dining purposes and round tables are being used allow 10-12 square feet per person. If banquet style tables are being used allow 8-10 square feet per person.If the purpose is for cocktail service allow five to six square feet per person. Contact us for all your specific questions and more information on tent types.
Q6: Has your tent product been certified?
Yes.Our tent product has passed the engineering tests and gained the America And Australia structural engineering certificates. Besides, the PVC fabric used for roof covers and sidewalls has passed the fire tests and gained the flame retardant certificates issued by America, Australia, New Zealand, and Britain.
Q7: Is your tent strong and stable enough? How about the wind loading?
Yes.The main frameworks (upright support and roof beam) are manufactured with high impact extruded anodized aluminum (6061/T6) so our tent structure is safe and strong and can resist wind up to 100 km/hr.
Q8: How long is the warranty period?
Guarantee one year. During the warranty period, we shall repair or replace the damaged part accordingly because of any damage due to quality problem.
For more informations, please contact me,
Company Name: Zhuhai Liri Tent Technology Co., Ltd.
Sales: Silvia
Tel: +86-756-6320920
Mobile & whatsapp: +86-18818651016