Liri outdoor wedding tent offer clients special area to touch with nature surroudings.
The wedding tent with lining, curtain, tables and chairs.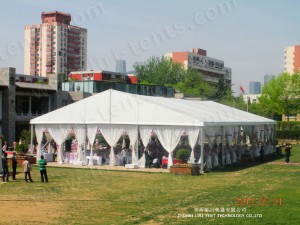 People can enjoy the outdoor sightseeing and creat more space for activities. And the bride and groom can dance and chat each other. People can walk around the wedding tent and have nice dinner inside or outside the wedding tent.
And the wedding tent can move anywhere so if the bride and groom like near the sea to held the wedding party. Only wedding tent can satisfy this special requirements.
Clear Span Tents – What Are They?
marquee
army tent
circus tent
garden gazebo
gazebo tent
tent chair
moroccan tent
dome tent
marquee for sale
family tent
transparent tent
stretch tent
Contact Us
Company Name: Zhuhai Liri Tent Technology Co.,Ltd.
Sales: Debbie Lee
Tel: +86-756-6250688 Fax: +86-756-5311018
Company main website: http://www.liri-tents.com / www.liri-structures.com
Mobile: +86-139 2691 1819 ( what's app or wechat ) or +86-158 1945 2034
Skype: liritent2