Music City Tents and Events constructs celebrations that reflect Nashville's rock-star style. Wedding tent
Country music, the Cumberland River, long lingering springs, autumns are a few of
the things that make Tennessee's capital city of Nashville a first-class location for
outdoor tented events. Music City Tents and Events understands the city's culture and has
incorporated that knowledge into its four core values: Relentless Service, ROCKSTAR Style,
Cool People, No BS. "We have a wonderful company culture that's summed up in these four
core values," says J.T. Terrell, founding partner of the company. "We live these every
day, and yes, they are on our printed material and our showroom wall."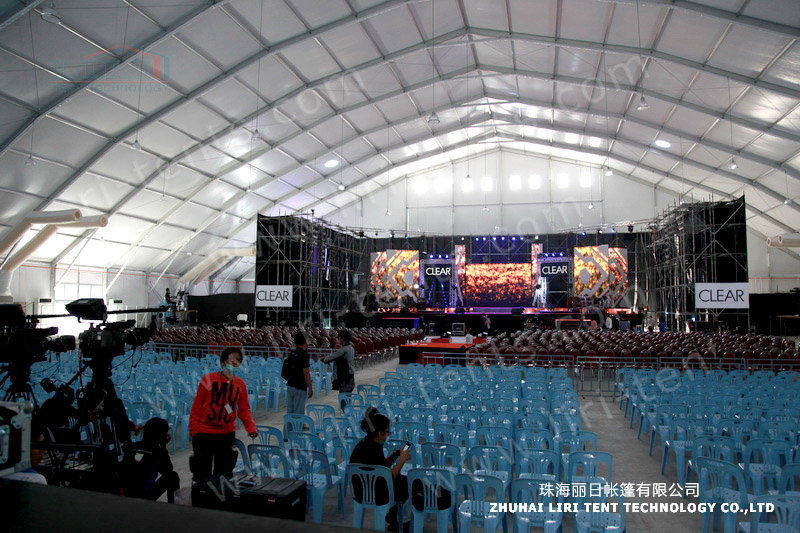 The company began in 2001 under the name T&M Event Rentals, providing event rental items
with the exception of tents. "We did everything except tents and realized we were missing
the boat by not carrying the big-ticket items," Terrell says. "We took on another
partner in 2007, and with an influx of investment dollars we closed T&M, purchased
$300,000 of tents and staging, and Music City Tents and Events was born."
Earning it
Since then the company has experienced steady growth each year and has been on the Inc.
5000 list (Inc. magazine's list of the fastest growing private companies in the United
States) two years in a row—2012 and 2013. Having also been voted "Best in Business" by
the Nashville Business Journal and "Hot 100" by Business TN Magazine, the leadership
knows what it takes to be a top event rental business—and that includes staying up on and
providing for the current trends. "Clients are moving away from the shabby chic trend and
toward custom, high-end items," Terrell says. "Luxurious soft seating pieces and fine
china are in demand this season, and luckily I have a 100,000-square-foot warehouse full
of it." The company also builds custom bars and tables on-site to suit its clients'
varying needs and tastes.
Music City Tents and Events often provides for events at the Tennessee State Capitol's
Legislative Plaza, which showcases the company's installation expertise. The plaza
features 1-by-1-foot raised marble stones as its flooring, which, although stunning,
requires the installation crew to be vigilant against cracking the tiles with the ballast
or scratching the expensive stone. To address the challenges the crew uses water ballasts
for the tie downs and custom fits each tent pole foot with a carpeted "shoe."
It's all good
Although the company does more weddings than any other type of event, its biggest client
is The Country Music Hall of Fame® and Museum in downtown Nashville. Each year Music City
Tents and Events sponsors the "All for the Hall" concert series hosted by Keith Urban to
benefit the hall of fame and museum. "The event includes red carpet arrivals, media
tents, rooftop tents and a gigantic after-party in the halls' multiple event spaces,"
Terrell says. "It's an epic concert and event every year."
Terrell continues to be optimistic about Nashville's tent and event industry. "I can
only speak for Nashville, but our market is growing by leaps and bounds," he says.
"Every day there are new venues, planners and convention needs that are pushing everyone
in our industry to step up their game. As for Music City Tents and Events—we're ready."