The choice of wedding venues is vast and varied these days with many venues now getting in on the act. Add to this the possibility of hiring a wedding marquee and you really do have carte blanche on location and styling. This article will look at what is available with wedding marquees and discuss some of the benefits, hopefully answering some questions for the undecided brides to be.
Modern marquees are metal framed structures that don't require any poles as per the more traditional marquee. Although the traditional marquees might provide a more nostalgic feeling, the metal-framed clear-span marquees are much more contemporary and practical as there are no central poles taking up valuable space, not to mention getting in the way of furniture and guests.
Advantages of wedding marquee
Wedding marquees are probably perceived as a summer solution only, which is not the case. Yes, they are easier to construct in decent weather and on to dry ground, but modern equipment and methods ensure marquees can provide a warm, safe, and dry party venue any time of the year. Flooring systems, heating, doors, and hard walling all help create the perfect winter wedding.
There are many advantages to using wedding marquees as opposed to a hotel or similar venue. For many, the idea of getting married at home is a dream and with a half-decent-sized garden, it can easily become a reality. Don't get too caught up in the size of your garden though as you will be surprised at what a decent wedding marquee company can recommend and then go on to achieve. If you have a desire to have your wedding at home, seek expert advice first on what can be achieved before you rule your garden out for being too petite!
If you are going to have a wedding marquee at home you need to consider the construction and dismantle time as well as other facilities for your guests. Most reputable marquee companies will build and dismantle the marquee as quickly and professionally as possible with minimal disruption. Especially in the summer as they are keen to get the equipment on to the next job and happy couple! Equally, most good wedding marquees hire companies will advise on, recommend and even provide the additional services and equipment you will need such as temperature control, loos, furniture, decor, and catering.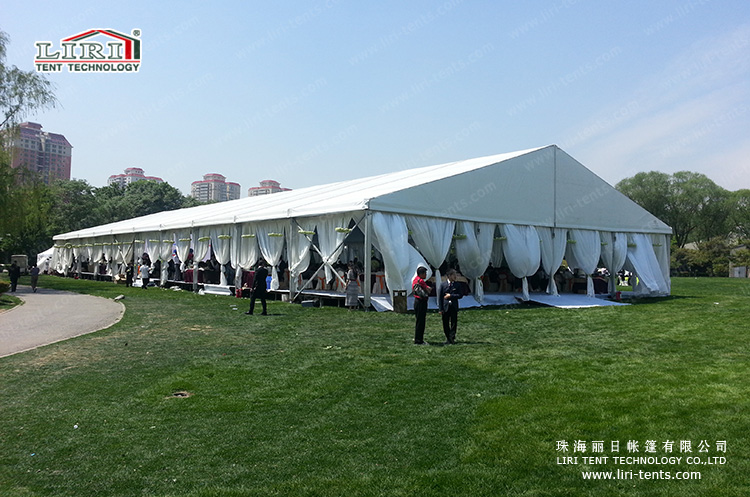 Contact Us
Company Name: Zhuhai Liri Tent Technology Co., Ltd.
Tel: +86-756-6250688 Fax: +86-756-5311018
Mobile: +86-139 2691 1819 ( what's app or WeChat ) or +86-158 1945 2034
Skype: liritent2