20x55m 1000 People Wedding High Peak Tent White Color For Sale 
High Peak Tent with its plentiful supporting facilities will add up to a perfect and compelling elegance to all kinds of opening ceremonies. Holding a outdoor luxury white wedding party with High Peak Tent's best quality and design wedding marquee tent.
Liri High Peak Tent are very flexible. We have a wide range of marquee tent accessories and ancillary equipments to tailor a marquee interior to suit your wedding.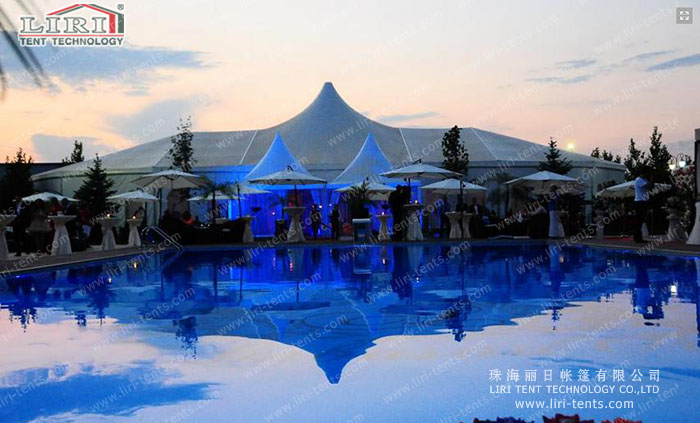 Over nearly two decades,with its high-quality,product safety,as well as efficiency,flexible and diversified services,Liri Tent had won great reputations from customers all over the world. Liri Tent whose products have been exported to over 100 countries and regions has maintained the leading position in tent exporting for 18 consecutive years and has been the exclusive supplier or sponsor of numerous domestic and international events including:
2002-2014 China Import and Export Fair
1998-2014 China International Aviation & Aerospace Exhibition
2010 Tent for concert in Columbia
2010 Guangzhou Asian Games 
2010 Omar 40th Anniversary of National Day
2011 Le Mans Grand Prix
2011 Shenzhen Universiade Games
2012 South Africa ANC Party 100 Year Celebration
2013-2014 China Grand Rally
2013-2014 China Cup International Regatta
2013 Warehouse Tent for Abu Dhabi International Sea Port
2014 China Open Tennis Tournament
2014 China Tour Hong Kong Jockey Club Cup Guangzhou Final
Official Tent Sponsor for WTA ELITE TROPHY ZHUHAI 2015
National Tent Supplier for IAAF World Championship Beijing 2015
For More Information Please Contact ME!
Tent69@liri-tents.com
+86 18826216690