1. Application of Clear Marquee Tent:
The Clear Marquee Tent is the most popluar tent for wedding tent with transparent roof, party and event tent, it is not only with transparent roof, but also with clear sidewall all around, it will looks luxury and elegent. The 15m width transparent tent can be widely used as the wedding, party, exhibition tent, trade show tent, trade fair tent, conference tent, festivals celebration tent, restaurants tent, concert tent, corporate events tent, or other events, etc. The transparent is normal tent and it is the newst design and it is most popular from home and abroad
2. Specification of Clear Marquee Tent (BT series):
For details, pls refer to below chart:
ModelSpanSide height Ridge height Length of distance Main profile
BT10/40010mtransparent tent 4m5.6m 5m 204X120X4mm
BT12/40012m 4m6.18m 5m 204X120X4mm
BT15/40015m 4m6.4m 5m 204X120X4mm
BT18/40018m 4m6.9m 5m 204X120X4mm
BT20/40020m 4m7.2m 5m 204X120X4mm
BT21/40021m 4m7.4m 5m 204X120X4mm
BT25/40025m 4m8m 5m 204X120X4mm
BT30/40030m 4m8.8m 5m 256X121X5mm
BT40/40040m 4m10.4m 5m 300X120X5mm
BT50/40050m 4m12m 5m 350X120X5mm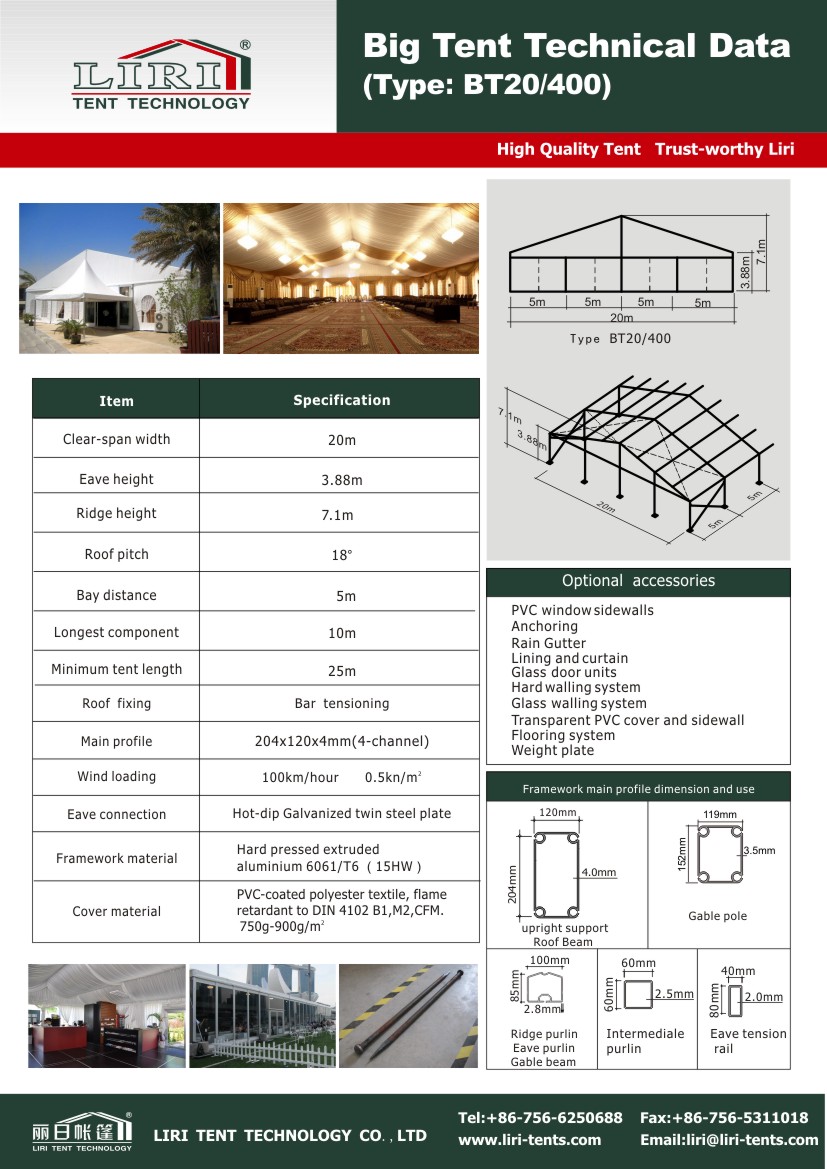 Main frame profile size for Clear Marquee TentBT series: 204X120X4mm
Wind load: 100km/h
Minimum tent length of transparent tent: In order to reach the designed wind load and make sure the tent is safety, pls set up the tent with the required minimum tent length.
3. Optional Accessories of Clear Marquee Tent:
Ground anchor, anchor puller, weight plate, glass door, fire door, glass wall, ABS hard wall, lining, flooring system, clear PVC windows, ramp, transport rack etc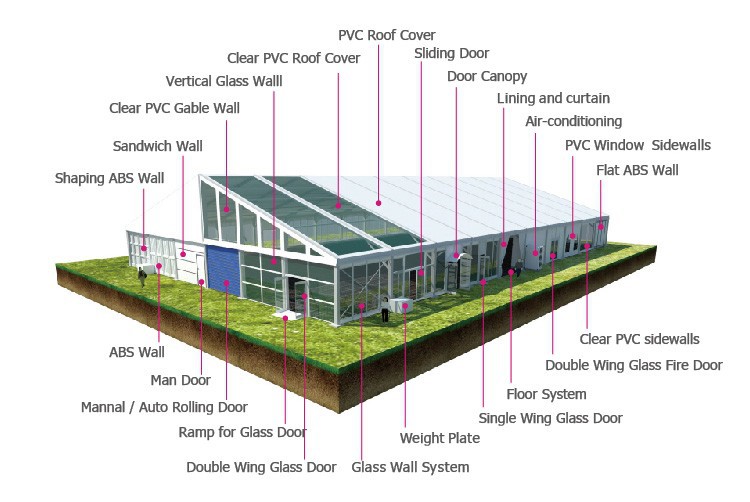 4. Materials of Clear Marquee Tent Fabric: Double PVC coated polyester fabric, 750-900g/sq. M, water proof, UV resistance, fire retardant according to standard NFPA701, CFM & DIN4102 B1/M2
Frame: Hard pressed extruded aluminum 6061/T6, anodized surface finishing.
Connections of transparent tent: Hot-DIP galvanized
5. Color of Clear Marquee Tent available: White, red, yellow, blue, green, black, grey, transparent etc
6. Products certificate of transparent tent:
Fabric: Test reports for the fire retardant, standards: NFPA701, CFM & DIN4102 B1/M2
Structure safety: Certificates by the registered engineers in the U. S. A & Australia.
If the customers need above certificates copy, pls feel free to contact with Liri Tent Technology. We will not show them on the website to avoid copys.
Contact Us
Company Name: Zhuhai Liri Tent Technology Co., Ltd. 
Sales: Silvia Zeng
Tel: +86-756-6302920 Fax: +86-756-5311018
Mobile & whatsapp: +86-18818651016